I will admit to agreeing to this ride by pure accident. A blunt e-mail from a coworker, with subject "Ride?" and body "Could be fun," received a prompt positive response from me. It wasn't until we spoke in person a couple days later that I realized I'd been signed up for an organized group ride; the oddly vague e-mail was intended to link to a Bay Area Riders Forum thread describing the event I unwittingly joined.
As it happens…
Once a year, enterprising Bay Area folks organize a massive group ride that aims to introduce new riders to the region's deliciously twisty back roads. Perhaps it's conceit that I no longer regard myself as a newbie in need of hand-holding, but I'm also not above discovering new routes and making new acquaintances. Truth is, I'm a bit of a loner-recluse unless provoked and "accidentally" joining this year's Annual Newbie Ride did some good for me.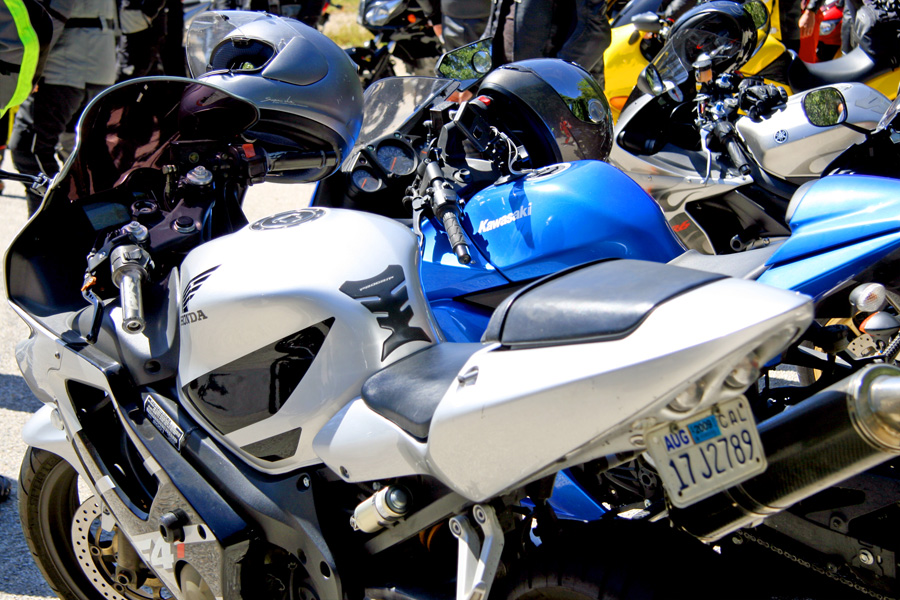 I knew some other Newbie Ride participants were meeting at the nearby Starbucks before taking off for the main ride's start point some twenty minutes south of The City, so I scheduled to tag along with the office squad. I arrived after fueling up, standing by with a few stranger-riders while waiting for the pair from work. The group already showed significant diversity, with a couple of Yamaha R1s owned by experienced bikers, two Ninja 250s rolled in by a pair of green female riders, and a few bikes somewhere between.
No pretense of Rossi-ism, no egos to defend
While the group ride was billed as an introduction for new riders, it was already clear that its appeal reached further. A relaxed tour of beautiful roads, on a beautiful day with no pretense of Rossi-ism, no egos to defend–that's my kind of ride, and evidently the kind enjoyed by other mature, safety-conscious riders. By my guess, fewer than half the roughly 200 riders were genuine newbies. A vast majority of all arrived in full gear.
Our relatively small local troop rolled down 280 to the main route's beginning at a vista point just off the highway, though we found no other bikes there, but a ride organizer waving us on to a new meeting spot just one exit down the freeway. A minute later and we arrived at the scene, slotting our bikes at the end of a quarter-mile stretch of motorcycles neatly filed along the road's dirt shoulder. Almost as soon as we'd plodded our way to join the mass of bodies at the far end of the street, the organizers delivered a briefing and advice before sending us back to our motos to suit up and commence the event.
The day's organization impressed me in its simplicity and effectiveness. Riders were divided into small packs, each pack headed by a lead and trailed by a sweeper, both experienced and both aware of the route and schedule. My pack got a quick pep talk from our ride leader before mounting our bikes and joining the full parade for the short meander to the first set of twisties, Kings Mountain Road.
I'd never been on Kings Mountain before, though I'd heard the name. It's pretty tight, with narrow lanes and sharp uphill hairpins that woke me up to the ride's disposition. If "Annual Newbie Ride" smacks of "tedium," consider that these roads could challenge anyone, even at the speed limit pace we followed.
That rider on a nice Yamaha R6 went down
Kings Mountain gave way to familiar territory as we blitzed down 35, past Alice's and along my favorite stretch of 84 to turn southwest down Pescadero. The considerable road dimple that surprised me before wasn't an issue this go-round (though I still hit it, prepared), but a downhill, left sweeper did upset one of the riders in our sub-group. Unfortunately, that rider, on a nice Yamaha R6, went down and we pulled to the side of the road some miles ahead when the ride leader noticed we were down a newbie and a sweeper.
Most of the other sub-groups cruised by, though a few stopped to piecemeal deliver the message that one of our group had a crash. Though it wasn't an accident I'd like to have myself, the rider was fortunate to walk away without any serious injuries. Like most of the riders in the hills for the event, he was wrapped in full leather gear and was able to ride his bike home following the spill.
Resuming the route, we navigated some wonderfully vacant back roads through tall grasses before joining Highway 1 for a relaxed cool-down to the lunch spot. A couple of local businesses sponsored the event, a Honda bike dealership supplying free hot dogs and sodas to the 199 (give or take) bikers that made it that far in the ride.
Before hitting the road again, our ride leader delivered another briefing for the upcoming challenges. One bit in particular, Jamison Creek Road, would throw tight, downhill hairpins at us to go with myriad potholes and low lighting. It wasn't fast riding, but it was intense nonetheless.
It hadn't stuck me that the day was closing until we met with Highway 9 and turned north. No more new roads, just a final rip up one of the Bay Area's most popular riding roads to the rendezvous at Four Corners. Our group, now down the only legitimate newbie among us, was comfortable at a quick pace, though we were caught behind some of the slower packs. Before the final few miles, our lead pulled us off the road to wait for a clearing in traffic that'd let us better enjoy the road to its fullest. And we did.