Time to think. There's a lot of it between San Francisco and Los Angeles laid atop a 400-plus-mile stretch of US 101. It was early and I was tired, and somewhere around Gilroy the mixture resulted in a pointless but amusing thought: by the end of my trip, the mighty Ninja's little motor will have combusted and twisted some seven million times. No beat skipped.
Let this be the final word: Freeway is no concern for the 250
I had a week of industry trade show in Los Angeles, but rather than board a plane with my coworkers and be south in an hour I seized the chance to ride a motorcycle for a day there, a day back. Work is impatient and left little time for the run down to L.A. so I swallowed the miles in one big gulp. The freeway capability of the Ninja 250 is frequently doubted, but I know better. Let this be the final word: Freeway is no concern for the 250, not even at 75 mph with drag-inducing side bags. I, however, am not quite as unbreakable.
June 13, 2010
A day of motorcycling starts with boundless optimism. Hurtling into the garlicky, warm breath of the Santa Clara Valley, I was still on fresh knees and a high of hope. "Eight hours, just me and my bike–nowhere I'd rather be." But my enthusiasm eventually succumbed to the draining batter of air breaking over the wind screen and a grease-bomb fast food lunch in Pismo Beach didn't help.
A thick summer fog turned my armored jacket into a swamp cooler and my attention was cat napping with disturbing regularity. A familiar roadside rest stop gave me precious downtime to relax my mind and rededicate my concentration; just a couple of minutes can have an amazing effect.
Half-helmeted Harley types politely pulled aside to wave me on
I lost track of mileage signs and didn't know how close I was to Santa Barbara until traffic backed up, the surefire sign SLO county is behind me. As capable as it is at freeway speed, the Ninja 250 is even better splitting lanes. Other riders split ahead, and as I inevitably caught 'em up–I cut my teeth commuting San Francisco–even half-helmeted Harley types politely pulled aside to wave me on.
Tight space. Tighter. Clear. Good. A hole! Merging? Clear. Tight space. Good. Tighter. Hole! Merging? Clear. Two hours splitting later, I parked up the bike in a downtown Los Angeles hotel garage for the week.
June 18, 2010
The work days were spent on foot, though I did find saddle time with a CR250 gussied up with chainsaws and blood splatters (zombie blood, of course). Every day without the 250 got me closer to it again. Trade show concluded and I rode out of L.A. in the afterglow of the previous night's NBA Finals riot.
Home is more patient than business, so the return trip to San Francisco didn't demand as strict a schedule as the ride down. In planning other rides to Southern California, I've been directed to Highway 33 but never had the time to try it. Until now.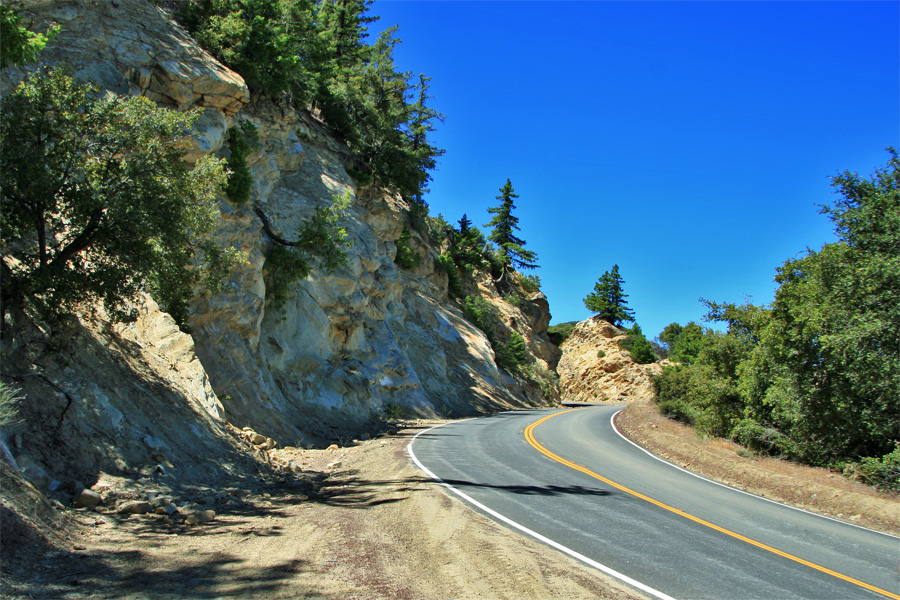 Desolate, pristine, wide and beautifully curvy. Highway 33 carves deliciously smooth turns through the Los Padres National Forest, a terrain that looks typically SoCal with tall brush and dry tan soil harshly lit by direct, overhead sunlight. A 600cc super sport could really stretch its legs back here, but my little Ninja gave me plenty of punch. Fast corners let me rarely dip below 60 mph except to dodge the occasional blue belly lizard scurrying across the heat-soaked pavement.
The fun didn't last forever. Highway 33 eventually turns arrow-straight, and my thoughts soon wandered in the direction of lunch. I pegged San Luis Obispo for a good lunch destination but underestimated the distance between the top of 33 and the 101 freeway. As dull as the last stretches of 33 may be, the 60 miles of Highway 166 back to the coast are worse. Stuck behind RVs through mountain passes is torturous, especially on an empty stomach.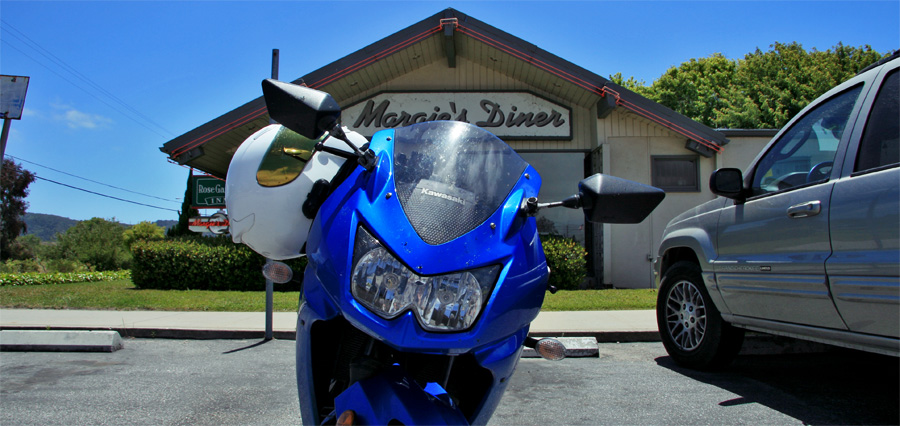 By the time SLO came into view, I was more than eager to pull off the freeway and partake in a local institution by grubbing at Margie's Diner. Stuffed myself with hamburger and avocado, the bike with fuel, and rejoined US 101 for another two million engine revolutions back to San Francisco.