Is December here to strangle joy from life already? I'd rather not know.
In October, I started wrangling together a group of coworkers for Sunday morning rides every week. We've had some fantastic days, but I get the feeling that, at least until after football season, it's going to be harder and harder to motivate the pack to wake up at dawn for a casual back road tear to breakfast and coffee.
It's not raining, it's not that cold, why wouldn't I ride?
One rider has already passed on multiple invites on account of the early hours and squeezing cold, but I wrote him off as a whiner. When this week's group completely dissolved into got other plans, I resigned to a solo day in the mountains. It's not raining, it's not that cold, why wouldn't I ride? It's not like it's…
…Except it is December.
Roaring down the 280 freeway just before noon today, I didn't consider the season. Pulling onto empty side roads, I didn't connect the absence of outdoor recreators with the chilling air. And when I crossed paths with a pack of twenty sport bikes exiting the hills as I entered, I didn't know they were running from rain.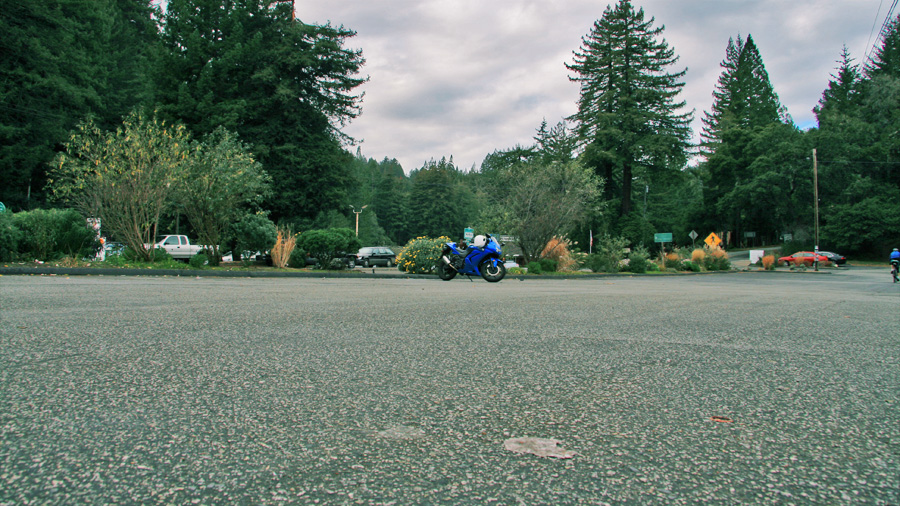 But the damp, empty lots at Alice's and STP cracked my dense denial. A week ago, the popular moto stop was hopping with life. In the nearly two years I've been pilgrimaging to Alice's, I've never been the only bike around before today. I grabbed a coffee to warm my hands and copped a seat on the curb, waiting for the motorcycle symphony to fill the valley with spine-tingling combustion noises.
Denial crushed. Go home, summer is over
The orchestra never materialized, so I turned home. Deliberating inside my helmet on the relaxed cruise up Highway 1, I entertained the possibility that the season for carefree, recreational riding has passed. Not that it'll stop me, just weaken my insistence that friends come with. I'll eagerly ride just for fun year-round, so long as it doesn't rain.
It started raining. Denial crushed. Go home, summer is over.