At the moment I was unsure which oddity was more absurd, 1) me already awake and a half hour from home for a group moto ride at 8:00 AM on a Sunday morning, or 2) the lot of 50-to-60-somethings on DR-Z and GS behemoths warning me and another newcomer that, in so many words, we were about to get dusted and shouldn't ride over our heads trying to keep up. Two of the men admitted to recent knee replacements.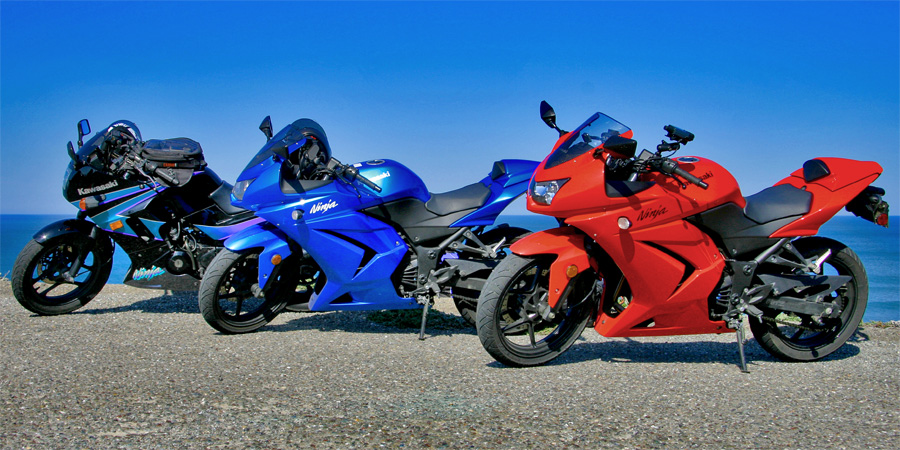 Now, I know the only thing absurd in that moment was my evaluation of the ride organizers based on their ages and bikes. In retrospect, it was me embarrassingly matching the reputation of my age, a drowsy, impudent 20-something, bemoaning AM activity and underestimating a bunch of old men.
Three Ninja 250s made a proud showing
Group rides don't usually appeal to me because I prefer riding my own pace and the freedom to stop at my leisure for photo ops. But this ride promised to introduce me to roads I wouldn't find on my own, and the chance to dance with another 250 or two. Three Ninja 250s (including mine) made a proud showing, and though we held up the rear of the convoy it was nothing to do with the paucity of horsepowers.
Two of us were the virgins of this weekly, ten-year tradition, and the third our gracious guide who made no bones about smoking us in the twisties but patiently waited at intersections to point us straight. I got some great satisfaction watching him outride me, confirming my suspicion that after a year and 8,000 miles on my Ninja 250 the bike has yet much more potential.
The roads of northern Marin County more than merited the crack-of-dawn start to my day. The paths we carved are among the most exquisite I've run, smoothly surfaced and guiding us through an impressive range of landscapes, each more stunning than the last. The route launched with Lucas Valley Road which conveniently connects directly to US 101 and offers much more challenge than I expected of a main road. At first climbing steadily uphill on clear roads, Lucas Valley eventually dips into darkly wooded territory, the surrounding trees creeping more and more inward until only spotlight beams of sun pock the asphalt surface.
Blind crests fueled the fearful part of my imagination
Open, hilly cattle grounds with signs warning of possible livestock obstacles followed. Blind crests fueled the fearful part of my imagination and I dreaded a dawdling cow on the other side of each rise. Normally I'd've taken more caution, but urged by the relentless pace of the group I suppressed my concerns and screamed forward. Those back roads were almost completely devoid of cars and trucks, likely part-due to the early Sunday morning but also to the scarcity of humans. Were I a more optimistic soul, I'd think those roads were laid just for us.
After that, my memory's a blur until the first destination, a quaint breakfast stop in Occidental. Still just 9:00 AM, I couldn't stomach a meal and instead consumed a few cups of coffee I later worried might leave me with uncomfortable jitters. Fortunately, per usual, I actually felt more comfortable and confident once back on the bike. I find that almost every time I take a day trip, I ride better after I've taken a break from the initial rush.
Leaving Occidental behind, we charged up Coleman Valley Road, a writhing snake of pavement that climbs out of the valley's depths. The views from Coleman Valley Road are phenomenal, overlooking green-spotted foothills before presenting the humbling expanse of Pacific Ocean. The narrow path abruptly curls downhill, the tightening bends urging me to clamp hard on the brakes as I approached each turn. The final mile stretch of Coleman Valley demands serious focus, and we mercifully stopped briefly once we hit the coastal highway for a round of photos.
The old men hustled themselves back to the route du jour, though I stayed put for a bit to practice my methodical (read: slow) photography. A stranger sharing the vista commented to me that the rocky precipice behind my Ninja is even more beautiful when the flowers on its cap bloom. More beautiful than this? No more maybes, I'm certain I'll make this trip again.
I cruised though Bodega Bay to regroup with the other 250s who'd made a pit stop for fuel. Our shepherd warned of an upcoming corner that claimed the pride of another Marin virgin just the week before, pushing him and his blue 650R wide, wedged into a gate just off the outside shoulder. The ribbon of highway leading to that tricky turn is the newly-paved Valley Ford Franklin School Road, a sweet blend of straights and long, sweeping bends lined with empty shallow hills swathed in yellow shag. The infamous corner wasn't so bad, though it's acuteness contrasts with the surrounding stretches' more gradual demeanor.
We rejoined Highway 1 for the highlight of the route, a relaxing run along the eastern side of the Tomales Bay. Having no concept of where I was at the time, I was stunned to stumble on such a massive body of water with land on either side. It's strikingly beautiful territory.
Before long, I found myself on familiar ground as we squirmed back down Lucas Valley Road to the route's endpoint. I turned up the aggression in the corners, eager to capitalize on the vague experience I'd already had with the road and also to eek out every last bit of thrill from a day I knew was fast closing. The 250 trio rejoined the company of faster riders and I loitered a bit to absorb the shit-shooting and camaraderie of men with a shared love of motorcycling before saddling back up for the sad ride home.