It wasn't until midway through today's ride that I realized it'd be my last adventure of 2008. Not that it's terribly significant, but the ride felt different. The beginning of this year inspired my interest in motorcycling, so sending off 2008 with a farewell ride seemed fitting, even nostalgic.
I've seen Stage Road mentioned on the local moto-forum but never really wondered where it is. Turns out I've passed it numerous times on my joyrides east of Half Moon Bay. On Christmas, I had a conversation with my mom about fun riding roads and she mentioned "a road between San Gregorio and Pescadero" that she thought I'd enjoy. I looked it up and saw that Stage runs just off of my weekend favorite, Highway 84. Recent mention of Stage Road on the Bay Area Riders Forum further piqued my interest, especially all this nonsense discussion about goat trails. I had no idea what constitutes a goat trail but was intent on learning.
Almost immediately, Stage casts off its painted marking, crossing a wide bridge before narrowing to bare strip of asphalt that winds around and up a great many shrubby cliffs. The surface is pretty raw, textured like a Jackson Pollock painting covered in cellophane, and the earth surrounding the road liberally spills onto the asphalt. It's not a road I'd call fast, but it's awesome all the same. The turns offer a variety of blind sweepers and uphill hairpins, and the vacant nature of Stage makes it possible to enjoy the full width of the tarmac, provided sight lines confirm there's nothing to run into ahead. I crossed paths with one other two-wheeler and only a few autos during my ride down and back the length of Stage between 84 and Pescadero.
I had to slow for a young deer that scampered off the road as I rounded a blind bend, doing my best to stand on the pegs to allow my legs to absorb bumps the Ninja's sporty suspension can't. Stage carves through some farmey land with far more animals–mostly sheep and cows–than people and buildings. Whenever I venture to new places south of me I'm struck by how rural areas in such close proximity of The City ™ can be. I find the unmolested landscapes comforting. Though I've lived the better part of the last decade among modern civilization, I grew up in relative wilderness, with neighbors whose residences measured in acres, not square feet. This place takes me back, amplifying the hazy sentiments of the last day of another year.
After a particularly sweet left-hander that neatly curls 180 degrees uphill, the route climbs quickly and overlooks the past turns. I didn't appreciate the dangerous drop just a couple of feet off the pavement until the return trip when I hugged the opposite side of the road. The view from the ledge (see photo at top) is breath-taking, the distant clouds casting crawling shadows over the brown and green earth below. The moment completes one of the driving fantasies that compels me to motorcycling, the ideal of minimalistic adventure: simply me on my modest steed in the middle of the wide world. I don't need anything more than this.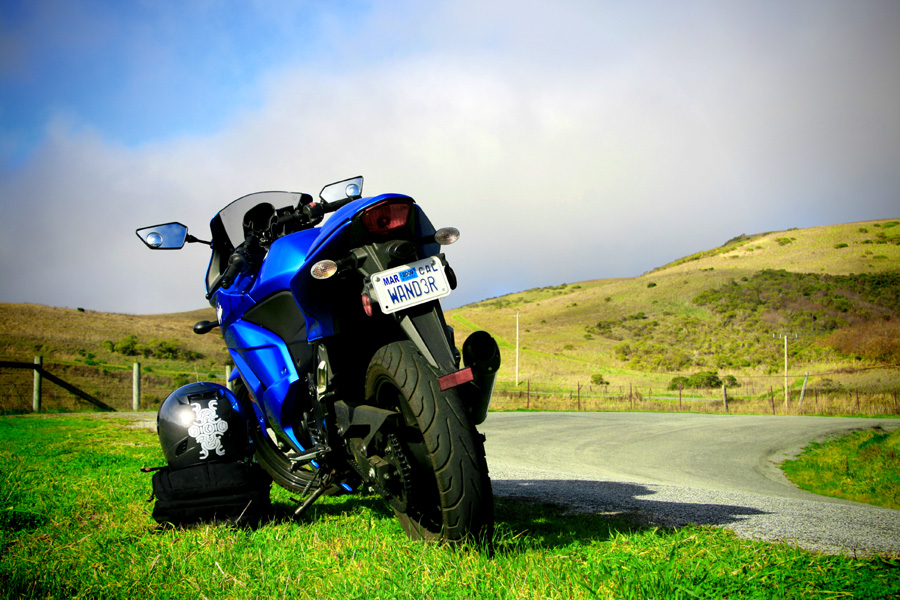 The trip was the most fulfilling diversion I've taken since my very first escape into back road twisties, yielding the familiar sensation of discovering new challenges offered by public roads. I can only imagine how awesome Stage might be on a motard. Perhaps some day I'll find out.