There's a light at the end of the tunnel of winter. It's presently obscured by fog, but it's a light alright. Days are stretching longer, and December's army of clouds is retreating.
My office's last three-day weekend was rained out, completely. Three free days, ruined by a soggy sky. I filed my complaint to no one, but someone must have listened. We got another long weekend for Presidents Day, this time without the wet stuff. With an entire Monday to waste, a couple coworkers and I boarded our sport bikes and headed north for the phenomenal roads and sights of Marin and Sonoma counties.
Tracing a route nearly identical to what I ran with the old men in Marin, I had to constantly reference hand-scrawled directions, paper stretched over my Ninja's gas tank, to anticipate turns onto the next valley roads. Lucas Valley Road, Nicassio Valley Road, Hicks Valley, Chileno Valley, and finally Coleman Valley Road, each offering unique challenges–damp corners, goaty asphalt, cattle grates, blind crests, and/or powdery fog–and endlessly stunning scenery, a surplus of green draped over rolling hills where cows moo.
After brunchfast in Occidental, we punched through a wall of sagging cloud to reach the coast. Parked up the bikes for a bit and threw stones at much bigger stones in the sea while shooting the shit, talking about other favorite getaways and how we might be able to shoehorn motorcycles into them.
It'd been a while since I last binged on CA-1, so I opted to guide the pack straight down the coast to return to San Francisco, rather than cutting inland for less-traveled roads. The coastal line brought the awesome sights I remembered from last year, but also the tediously slow traffic lines that plague Highway 1 during summer months. But it's February, I objected inside my helmet. Try as my frustration might to overwhelm me, nothing could spoil the day.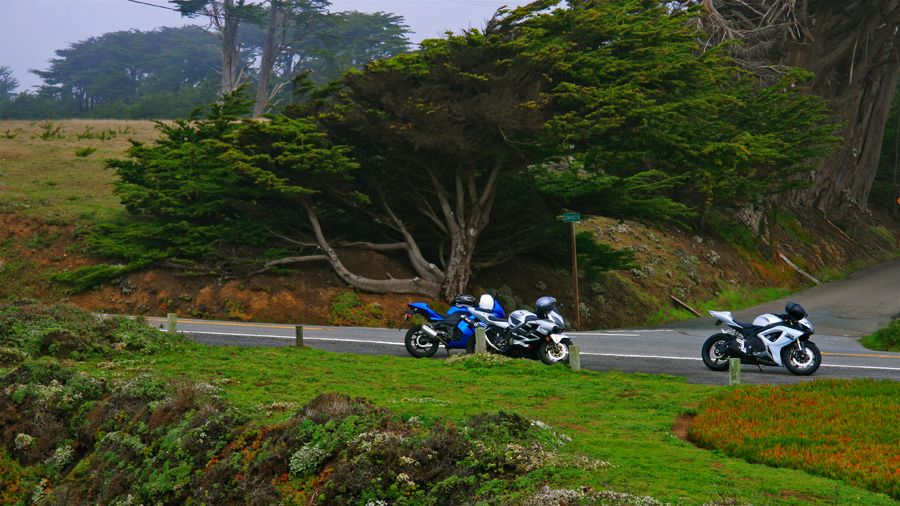 I returned home more than seven hours after I'd left in the morning, after a ride nearly as long as the work day George Washington helped me skip. Here's to our Presidents past.