As a daily rider-commuter and wannabe Lewis-and-Clark, it's rare that I hop aboard the mighty 250 with less than a backpack strapped to my vessel. A ten-year-old Jansport served me well enough through my first year of motorcycling, but my Seattle adventure underscored serious weaknesses in my choice of bag. I needed a new backpack, more suitable for motorcycle touring.
The high school issue Jansport was guilty of two major sins: It offered almost no protection against rain, and, worse, it tortured my shoulders on long rides when heavily loaded. For its replacement to satisfy me, it'd need to…
…support itself with more than shoulder straps
…offer some sort of water resistance
…sport a generous carrying capacity
I looked at a lot of bags, including this Overboard Waterproof Backpack. The bag satisfies all of my requirements, but I wasn't willing to take a chance on a backpack I couldn't first handle in a store. I was also aware of Ogio's No Drag Backpack but doubted the carrying capacity and usability of such an odd, rigid shape. It struck me as gimmicky.
When I first spotted the No Drag in a Washington moto shop, I was surprised and impressed by the expanse of its interior. I liked the rubberized outer shell and the lack of exposed zippers. The bag's only openings are on the side that faces the rider's back, which keeps the most porous bits of the bag (the zippers) away from rain and thieving hands. Perhaps best of all, the No Drag hangs on with both a sternum strap and waist strap in addition to typical shoulder gear.
With 1,000 miles yet between home and me and my overweight backpack, the No Drag was a dream. "It will be mine. Oh yes, it will be mine." After completing the Seattle trip, I promptly ordered the Ogio from New Enough.
I've since used the No Drag for more than 5,000 miles and determined that it is the ideal bag for motorcycling…probably. It's not perfect. The sternum and waist straps that add support to the bag and relieve shoulder pressure also add complexity to putting the bag on and taking it off. Riding–or even walking–with the waist strap disconnected leaves dangling buckles that slap into surrounding objects. On the bike, there's no real issue with buckling in, but when I'm off and walking between shops, the extra strapping can make a chore of getting in and out of the bag for my wallet and storing things like delicious deli sandwiches.
The protected zippers and openings don't help shopping matters as it's almost impossible to get into the bag without setting it down. A typical backpack can easily swing around the shoulder and offer over-the-belly access to its contents, but the same shoulder swing with the No Drag keeps the zippers hidden between the bag and my chest. For this reason, I've had to stop storing my wallet in the backpack.
And while the bag consumes a solid 21 liters of shoes and camera equipment, utilizing all of the space isn't always possible with the sloping shape of the bag. As well, it's a tall bag, tapered top to tapered bottom. This makes it good for stashing a dozen long stem roses (tested, approved) but also necessitates some fitting to keep it from rubbing against the back of my helmet without then butting into the tail of the bike. I got it sorted for my 5′ 10″ body, but riders with shorter torsos may have issues.
And so the Ogio No Drag is an imperfect backpack, but is also the best option for motorcycling that I've found. The very features that benefit the riding experience inconvenience the rider away from the bike, but for me they're worth the trouble. If I could change it, I'd widen the sternum strap, giving it a pocket large enough to hold a wallet and bridge toll money, and I'd give the bag an option for storing the waist strap, as the support (and hassle) isn't necessary for twenty-minute commutes and errands.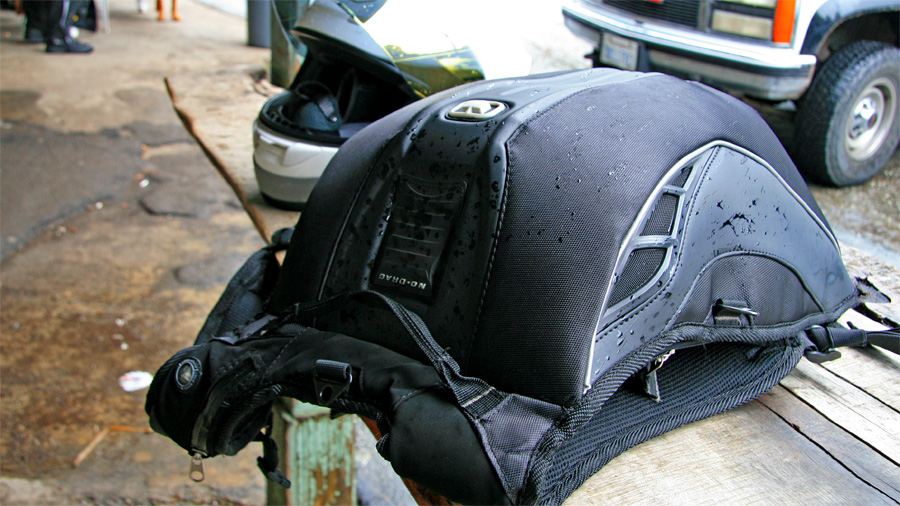 Despite some incidental shortcomings, the bag has fully satisfied my three original criteria. It's comfortable all day, it hasn't yet been breached by rain and it carries my laptop, shoes, nighttime visor and more. I wouldn't trade it for another bag. Unless Ogio uses my suggestions to improve the next model.