I've lived in San Francisco for going on five years but the irregular seasons here still baffle me. Through August and early September, I was dreading the end of summer and the start of rains, sure I'd have to soon hang up my leather jacket until spring. The baffling bit is that last weekend, the first weekend in November, was the first time the fall season showed its face. The rains retreated earlier this week but left behind a lingering dampness, an endless mist, enough to make things wet, not enough to soak a rider.
And not enough to keep me off the bike. I was actually hoping to make a more adventurous ride this weekend, maybe down to Alice's to sample their on-tap root beer, but the idea of spirited riding over damp, leaf-blanketed roads isn't terribly attractive at this time in my barely blossoming riding career. So I resigned to putting around town.
Looking for an excuse to ride
Didn't go anywhere interesting, just to a couple of electronics stores, but I was more looking for an excuse to ride. An employee at one of the stores asked me about riding in the rain, then asked about my bike and said that his mom wants to get a new 250 but told her that if she got one he'd be riding it. For such a niche product–an entry-level sportbike–I'm often surprised by how many people are familiar with what the bike is. And then there are others like the guy that two weeks ago asked me at a stop light, "What size is it?" and seemed to drop his jaw when I gestured "two-five-oh."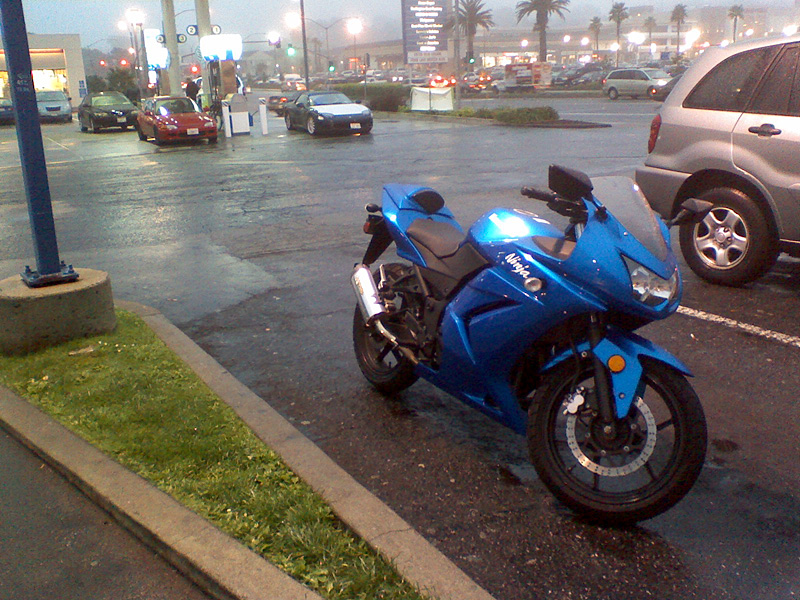 I actually enjoy riding in the wet–the air is cool, the ambiance subdued, and I'm not interested in pushing the pace so it's generally pretty relaxed. At least the pace is. Despite the slow going, riding in the wet takes a lot of concentration from me. Watch out for metal gratings, avoid painted lines at stoplights, and boy that's a lot of oil in that parking spot. And obstacles aren't the only concern: I've got to keep extra following distance for slower, smoother braking, calculate my corner approaches to reduce the necessary lean. I half feel that the bike is a lot less delicate in the wet than I treat it, but I'd rather be safe than sorry.
By most any measure, it was a boring ride. Still loved it.