For many riders, a Ninja 250 is the bottom rung of a sport bike ladder, a necessary first step in pursuit of high horsepower race replicas. I can't begin to recount the myriad times I've been asked about getting a bigger bike, generally with the suggestion, express or implied, that I'm ready for a 600cc super sport. With over 17,000 miles behind the bars of my mighty 250, I've no apprehensions about moving up. But I'd rather branch out.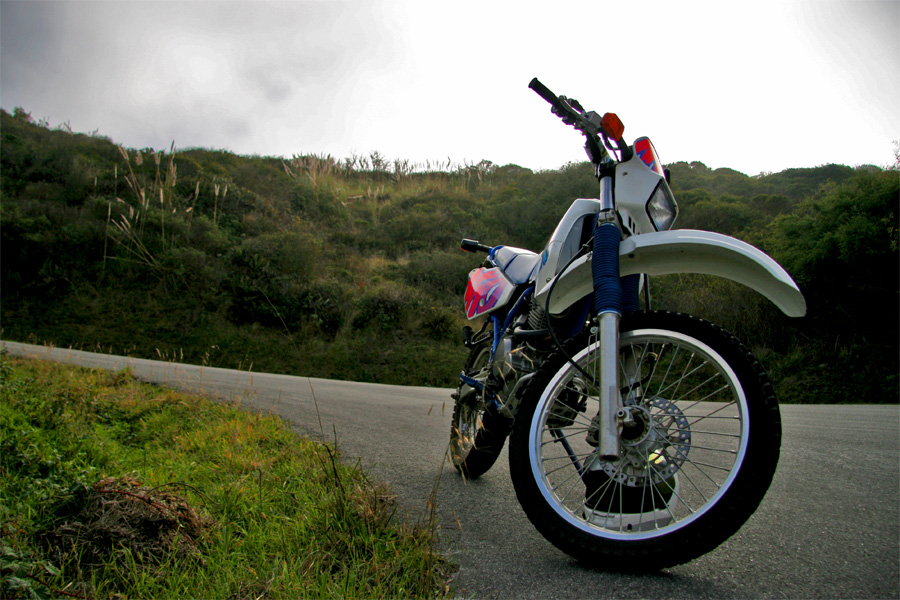 This weekend, I picked up a 1992 Suzuki DR350S, an eighteen-year-old dual sport that's seen just two owners before me and fewer than 5,000 miles. For a bike of legal age, it's in incredibly good nick, right down to the wildy '90s, pink and purple, screamin' decals. With a dual sport in my stable, new, unpaved roads are opened to me. Though before I dabble in dirt, I wanted to get personal with the DR by taking it on some of my favorite (asphalt) roads.
Wildy '90s, pink and purple, screamin' decals
On the morning after buying the bike, I rode down Skyline to Alice's. A bike with this much retro character demands attention, and it got a few looks from other riders making the obligatory stop in the mountains. A couple guys were stunned by the low price I paid for the bike, and also surprised when I extended the kick start lever to fire it up and take off. "I'm new to this," I warned, preparing onlookers for the inevitable series of failed kicks. "Hell everyone's new to it, they don't make 'em anymore!" responded the rider of a newer GSX650F.
After Alice's, I headed for Stage Road, the beautiful but bumpy road I first explored last December. It's a fantastic bit of tarmac, tight and twisty, but it's not a smooth surface. On my Ninja, riding Stage requires a lot of standing on pegs to let my legs absorb the jolts my butt prefers not. It's exactly the sort of road that made me want a dual sport or supermoto in the first place, so I was anxious to see how the DR might change the experience.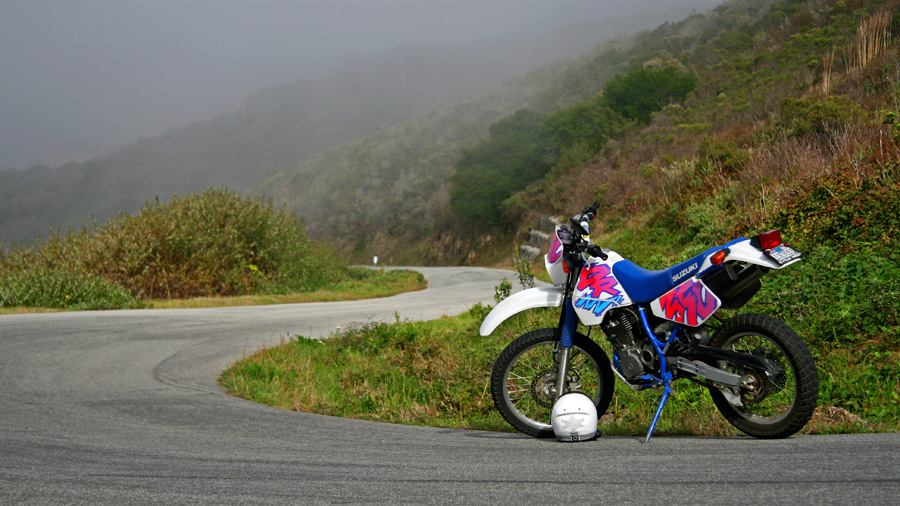 My ride on the DR wasn't as fast as previous tears on the 250, largely due to inexperience on the bike as well as comparatively stiff, wooden brakes. But what the DR lacks in quick responses, it makes up with compliant suspension that dulls the ripples of Stage's pavement for a significantly more comfortable ride. Reaching the end of Stage on the Ninja feels like an accomplishment, but the DR wanted more.
More will have to wait. The Suzook is an exciting addition to my motorcycling options, but a couple days on the bike gave me a new appreciation for the Ninja 250. The quality of the DR's build is unimpeachable, but the Ninja is such a polished, practical package in comparison. The kick start on the DR is novel, but after a couple dozen starts in 24 hours my right leg kills. At speed, my Kawasaki is immeasurably more solid and confident. Every control, from turn signals to steering, is lighter, more effortless on the Ninja. And the two-gallon tank on the dual sport reminds me–every 60-80 miles–that the Ninja's 150-mile-plus tank range makes the bike infinitely usable.
But it won't be long before I start really appreciating the DR's strengths. I just need to find some good dirt trails…