It was, as they say, love at first sight, he a genial gent from Germany, she a silver 750 Shadow stuck in San Francisco.
I met Alex on Twitter. He'd share photos of his motorcycle love in Hamburg and I'd counter with taunting shots of my bike in the Bay Area. Not that I've contributed, but I take some pride in the beauty of the Bay and I'm disappointed so many San Franciscans are oblivious to what's outside the city's constricting dimensions. But Alex knew what thrives beyond and he wanted a tour of the North Bay. He flew to San Francisco and rented a bike he named Stephanie. I happily obliged his urge to ride.
While Alex dreamed of Napa Valley, I secretly planned to shatter expectations. I plotted a morning route to fulfill his wishes, and by lunch Alex was sated. Thoroughly pleasant weather graced our passage on pleasant highways through pleasant vineyard hills. We parked our two-wheeled dates in Yountville, absorbed the sun while chewing and chatting. We'd traveled picturesque miles through wealthy California territory, but I saved the best for later. Alex had no idea.
The road forced Alex's eyes to smile
After grub, we turned westward on St. Helena Road and I waved Alex ahead so I could capture his ride on video with my helmet cam. The mountain road climbs out of Napa Valley and bends the sort of way California roads do best. The road forced Alex's eyes to smile, and at the end he happily announced, "I've never done a road like that!"
Still further west I lead him and soon we were galloping south on Highway 1 toward Tomales, the uniform vineyard hills inland exchanged for raw coastal shades of dusty gold and green. Napa is beautiful, but clean-cut, manufactured. The coast, its fragrant cow pastures, decaying barbed-wire fences and undeveloped expanses, possesses a truer beauty to my eye. I earlier told Alex to stop at his own leisure to take photos or just memories, that I'd not leave him behind. When he disappeared from my mirrors, I doubled back to find him worshipping the landscape. He wanted every view, every inch of the coast in pictures and video to remember. Alex and Stephanie looked good together and he wanted proof.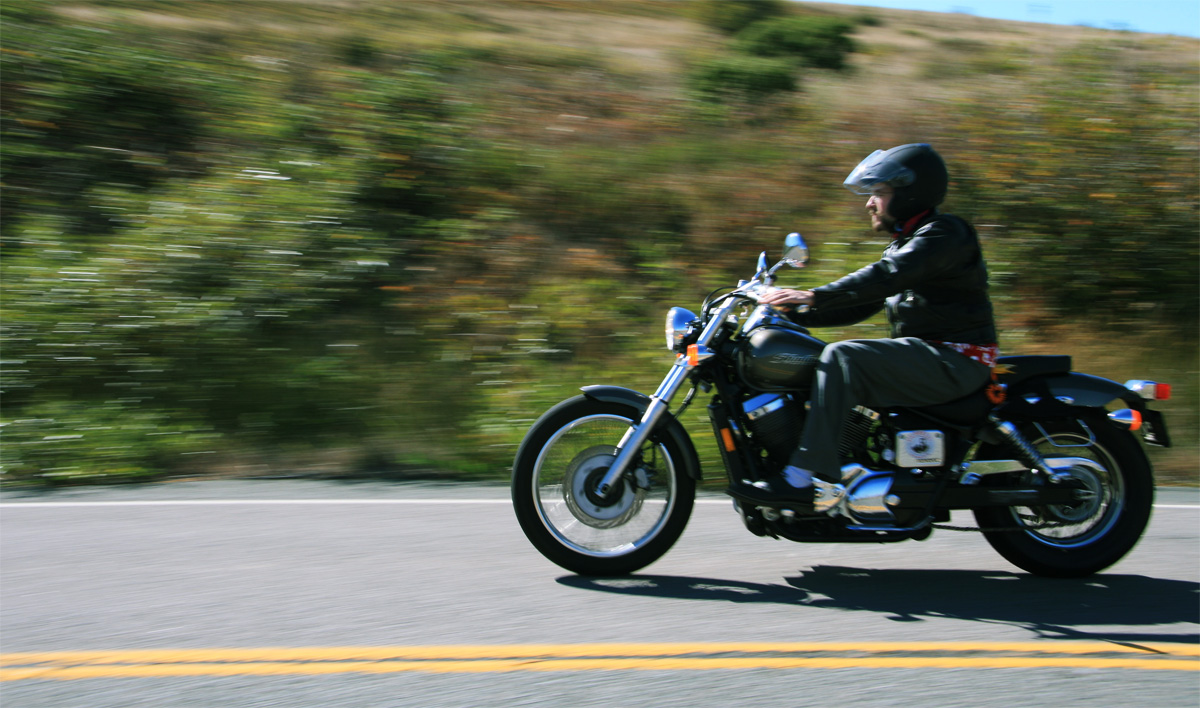 South of Point Reyes, we entered a darkly-wooded section of Highway 1 surrounded by tall eucalyptus and carved into a series of heart-melting twists. I know the section well and reveled in it, rolled on the throttle and greedily dipped hard into the turns. I popped out the other end well ahead of Alex, expectedly, but grew worried when he didn't follow soon after. I hoped he stopped for another photo op with his lovely motorcycle companion. I regretfully report that he did not stop by his own free will.
Stephanie dumped Alex onto California Highway 1. One hundred and fifty miles into our 200-mile ride, Alex met the asphalt. Strangers passing by stopped to lift the two off the ground, and soon the local sheriff and Bolinas fire crew heroically settled the scene and patched up Alex's wounds. Alex suffered some nasty scrapes and bloody hands, but no broken bones. He walked. He joked. He was still Alex. Stephanie enjoyed less fortune, she parked in a ditch, immobilized.
The EMT brought Alex back to the local firehouse while I rode the lonely miles home to San Francisco. Stephanie remained roadside, awaiting a tow. Another day, a varied breeze off a butterfly's wing, and Alex and Stephanie might have made it work. I'll miss seeing the two together.