Brian, a friend of mine since the age of twelve, picked up his first bike back in April, a 2009 Ninja 250. He's rolled on about 3,000 freeway and city miles since then, so I figured it's high time he be acquainted with some real roads. Last night he endured the obnoxious I-80 to reach San Francisco from the Sacramento area. This morning we rode further south, target: Santa Cruz.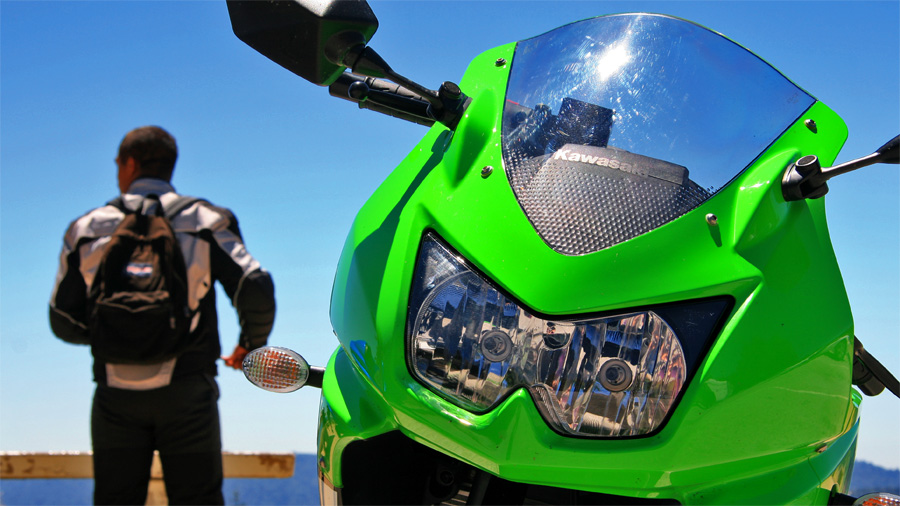 I lead the way and started him easy, with a relaxing cruise down the gentle Highway 1. Sights were phenomenal, despite endless low-hanging cloud cover forming occasional fog. I do this ride almost weekly yet I'm not jaded, but Brian was even more impressed by the display of nature. Onto 84 and I wanted to see how he'd handle it. Fantastic.
Grabbed lunch at Alice's and did some bike watching. Crazy number of classics on display today, I want the red MV.
Highway 9 brought us further south, and aside from one stubborn and slow car that wouldn't pull over–even after enough honking that my weeny horn's voice cracked–we were unimpeded until Felton. Into Santa Cruz and it was hot. Parking was madhouse, thank goodness for motos. We walked the Boardwalk but were too hot and laden to do anything. Naturally, five minutes north and the cool ocean air turned sweaty jackets into swamp coolers. Oh, that's nice. No wait, that's cold. Colder. Freezing. Poor Brian still has 100 miles of I-80 before his day is done.