I'm writing this more than two months after the fact, but I remember the day vividly.
With my accrued vacation time about to max out, I took a Friday off for no reason other than to spend paid time off to make room for more paid time off. With the girlfriend at work and the urge to brush aside professional obligations, I fueled up the Ninja and headed south for Santa Cruz. This would be no mere afternoon ride–I had the entire day to myself.
I rode Highway 1 out of the city and kept on it until after Half Moon Bay where I found 84, a highway I frequently read about on the local moto forum but had never ridden before.
What a road.
The perfect blend for attack mode in relative safety
84 comprises great turns, wide lanes, and pristine asphalt, the perfect blend for attack mode in relative safety. It's not the most technical (read: dangerous) road I've ridden, but it's probably the most fun. And adding to the perfection of the setting, it was midday Friday, all the weekend traffic nowhere to be seen. Though I did exchange thumbs up with an enthusiast conspicuously enjoying his Cobra-replica in the twisties.
Before long, I found myself at the junction of 84 and 35 and Alice's Restaurant. Stopped for a bit for some photos, but couldn't be torn away from the bike long enough to eat.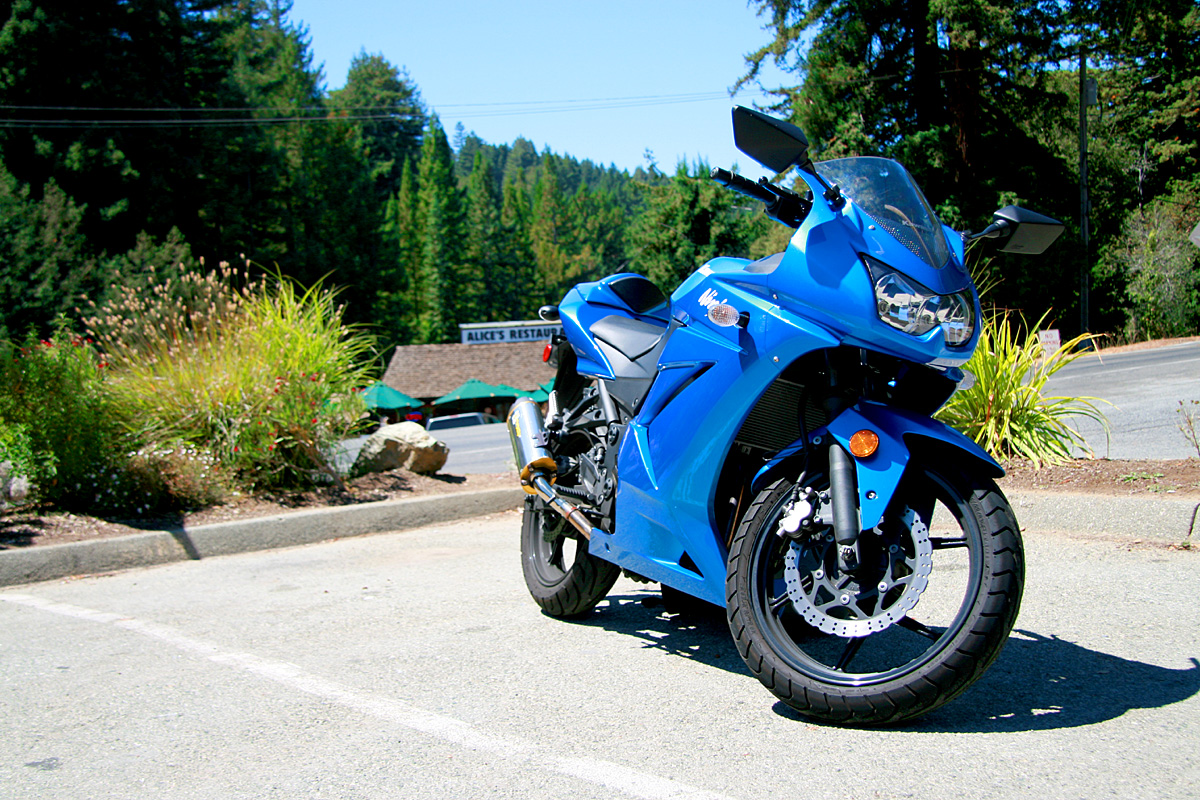 From Alice's, I turned south down 35 where I was tightly tailed by a pair of pickup trucks no doubt driven by locals. I kept them off my back for a while, but preferred setting my own pace so I let the pair pass.
The turnoff for Highway 9 came abruptly. Heading deeper into the redwoods, the roads tunneled like secret cave passages through the thick trees. I pulled over to the side of the road on a particularly large turnout for another photo session before hopping back on the road to Santa Cruz.
Or that was the intention. Just a few turns further south, I found an infinitely better photo spot and cursed myself for stopping too early. It was a hot August day. I was in full gear. While riding, the rushing air was enough to keep me comfortable, but stopping, setting up the camera, and crouching to odd angles made the protective ensemble unbearable. I stopped for a few photos, enjoyed the view, and took off.
Highway 9 eventually winds through some towns and is actually pretty slow going after the initial avalanche of phenomenal corners. Fine by me; after now about two hours of intense riding, a chill ride with some traffic was welcome.
I reached Santa Cruz at around 3:30 PM, having left home before noon. Were I in a hurry to reach Santa Cruz, I could be there in just over an hour via the freeways. But that would miss the point. I spent about an hour downtown, wandering the shops until the heat became unbearable. Stripped the insulating liner from my jacket, opened the zipper vents, and hopped onto Highway 1 for an easy, comfortable ride home. Or mostly comfortable–it actually got really cold further north! A reminder that micro-climates and changing weather are inseparable from Bay Area riding, no matter the time of year.